Who We Are
Kavitha Kalicharan, an Accredited Public Relations Practitioner who has over twelve years of experience in the field of Communications & Public Relations. Taurus Communications was founded when Kavitha identified the need by many organisations that required cost effective, quality, specialised Public Relations strategic solutions.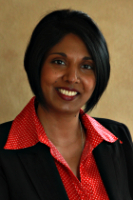 Kavitha's extensive background in Public Relations industry enables her to bring a fresh perspective to any organisation that prides themselves in communicating effectively to its internal and external stakeholders and who also aim to protect the reputation of their organisation.
Kavitha's passion in this field has led her to become a thought and opinion leader is in industry. Having worked at Nestlé South Africa for nine years, she has been instrumental in setting up the Communication Strategies. She has also been involved in the implementation, monitoring and evaluation of the strategies.
Kavitha is very involved with the Public Relations Institute of South Africa- external link and is currently the Vice Chairperson of the Gauteng Region. As an Accredited Public Relations Practitioner she also sits on various accreditation committees where she makes valuable contributions to the Public Relations Industry.